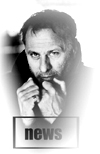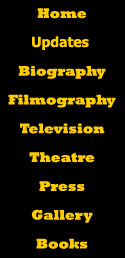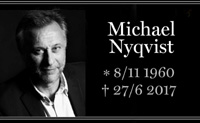 April 21, 2018
I don't have the year that Michael lent his name to Artisans of Attire with the following ad. Known to wear a various selection of bracelets, he was a good choice for the Duxe Mfg. Co. I believe these beauties are handmade by Julia Edlh.
* * * * *
It's interesting that Hollywood wanted to cash in on the success of Stieg Larsson's "Millennium Trilogy", but their only American version turned out to be "The Girl with the Dragon Tattoo". Sony Pictures ultimately decided to skip to the fourth book, "The Girl in the Spider's Web", written by David Lagercrantz. The international cast includes actors from the UK, Holland, Denmark, Sweden, Luxembourg, Norway and the US. The film is set for a November 9, 2018 release.
Swedish actor Sverrir Gudnason takes on the lead role. You may recall that he starred with Michael in "A Serious Game". At the time of Michael's death, Sverrir said, "I think it's incredibly sad... He was a very open actor and an incredibly nice person... How he lived was reflected in his acting as well. He was incredibly curious."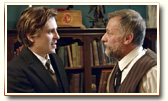 Certainly, Sverrir doesn't have the Nyqvist charisma but it'll be interesting to see how he fills the shoes of Mikael Blomkvist. The photo below is from a 2009 "Millennium" interview and if you click on it, you can view the interview in English at the Italian web site, Coming Soon.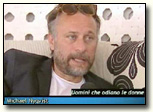 I've posted a 2009 interview in which Michael discusses his first book and his role in the "Millennium" series. He says, "My idea with Mikael Blomkvist was to show a man who's a good listener, empathetic, wise and analytical. I also hope in this era that intelligence should be sexy." Yes!
April 18, 2018
I attempted to do a translation of an article in a 2013 issue of A6:an magazine, but I had great difficulty so I'll just give an overview. Those who understand Swedish can read the entire article below.
Michael does this interview at a cafe in Stockholm with a great view of the water. He looks relaxed and in good humor. He orders rose wine. Earlier in 2013 he had his second book published. Commenting on his books, he says, "I think you should be personal but not private." Even though his book is very much about his life, Michael feels much more embarrassed when he looks out at a theater audience. He says, "The worst thing you can do is fail 800 people. Then you are unpleasantly blamed. When you write a book, it's more school spirit." He admits he never reads his book and film reviews lest they make him feel less confident but he says it is, however, important to doubt.
He mentions that "life is relatively short". How true! In just three years he was battling lung cancer. Living next door to Swedish poet Tomas Gösta Tranströmer, who won the 2011 Nobel Prize in Literature, he felt inspired to write his books as well as try some poetry.
Rather than spend time in his home in Roslagen where it's very quiet, Michael has spent the summer in New York filming when it was quite hot. He says, "We filmed when it was warmest. The whole city was like a sweaty layer. I felt agony between hopelessness and air conditioning."
He admits that he does not always enjoy the public, people staring outside the door. But when a couple of girls stop and wonder if their father can take a picture, then he certainly answers yes and laughs at the camera. He says, "At least they did not think I was Persbrandt. It happens often."
After seeing these pictures, I realized they were part of a photo shoot so I've posted the others as well.
April 12, 2018
Last night I watched "Bang, Bang, Orangutang" on Amazon Video and was appalled at what a waste of money it was. Such a horrid little film! Putting Michael's name on the DVD cover/poster could be construed as false advertising. He makes a 90-second appearance at the very beginning in a scene that has no relationship to the rest of the film. Michael plays a fired employee who's mad with rage at his boss. He's a total nutcase with a handful of lines, which you'll probably never hear against a booming God-awful soundtrack. Read my lips - stay away from this one!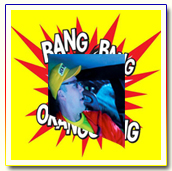 Michael had worked with Simon Staho the year before in "Dag och natt" once again with the director's favorite - Mikael Persbrandt. I could relate to Persbrandt's somber character in that film but here he acts like a complete idiot. And in both films Persbrandt spends 90% of the time in his car. If he's out of the car, the scenes are shot on the road or in a parking lot. Obviously, Michael's production designer wife would have nothing to do on this assignment because there are no interior scenes. I'm going to end the discussion here because the movie is so annoying. For the record, Peter Asmussen also co-wrote Lars von Trier's pioneering 1996 Dogma piece "Breaking the Waves" which I love, love, love.
April 10, 2018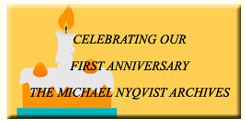 Exactly one year ago The Michael Nyqvist Archives was launched. Today this web site has 130 pages and over 4,000 images. It will continue to expand in his honor.
* * * * *
Adding to the press section is a Dutch interview with Michael in Amsterdam in the summer of 2012. It's not the first time that he has mentioned Italian actor Marcello Mastroianni, but this time, he points out that in the 1987 film "Occi Ciornie" ("Dark Eyes"), Mastroianni's performance was pure perfection! Michael is sure that he has not reached that level.
* * * * *
New pages! In 1990 Michael did a 43-minute television film called "Pass" in which he plays a photographer in a romantic drama. Sixteen years later, director/writer Mikael Södersten decided to take clips from his original film and create a six-minute short called "White Man's Blues". You can view the trailer at this link to see a very young Michael, but you might want to mute the sound because the music is horrendous.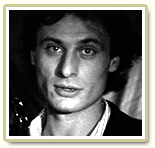 * * * * *
This is a new photo taken a couple years ago when Michael attended the premiere of "Colonia" in Vienna, Austria. Great photo!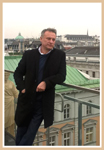 April 8, 2018
Lucky Nyqvist fans in Davis, CA area have the chance to see "Så som i himmelen" ("As It is in Heaven") on the big screen this month. It will be shown at the International House Davis on Friday, April 20th, as part of their international film series. The film received an Oscar nomination for Best Foreign Language Film.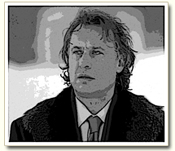 Back in 2008, Holland's Film by the Sea Festival, held in Vlissingen, was celebrating its tenth anniversary and the festival audience was asked to choose their favorite film from all those that had been screened since the festival began. "As It is in Heaven" was the convincing favorite. Michael was present to accept the Anniversary Audience Award and was also the recipient of the Grand Actors Award, which is presented to filmmakers or actors who have made special contributions to the film industry. Ben Kingsley, Stanley Tucci, Morgan Freeman and Claudia Cardinale have also received this award. Michael was both surprised and moved by the admiration that befell on him and the film.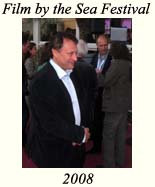 The Dutch festival's main focus is on literary adaptations. In 2006, another Nyqvist film - "Äideistä parhain" ("Mother of Mine") received the Film & Literature Award. Being honored with the prize reminded director Klaus Härö of a promise he made as a young film student in Helsinki - the promise that he would never adapt a book into a film. I, for one, am glad he didn't keep that promise. This film also became Finland's submission for Best Foreign Language Film at the 78th Academy Awards.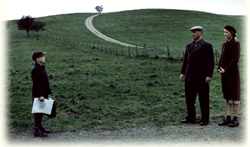 This fall the festival has selected one of Michael's more recent films - "Du forsvinder" ("You Disappear"). It will be screened in their Film and Literature Competition on September 15th. The film will also be shown at the Cleveland International Film Festival on April 9 and 10. It was Denmark's entry for Best Foreign Language Film for this year's Academy Awards.
April 6, 2018

There's a new YouTube clip of Michael that was posted yesterday. It's from Swedish comedian David Hellenius' TV show called "Hellenius hörna" when Michael was a guest on October 21, 2011. Having just completed action films "Mission Impossible" and "Abduction", Michael had returned to Sweden after extensive international travel. After Michael spends time chatting with the host, they do a humorous action scene together with Michael pulling a gun on Hellenius and then chasing him out the door and finally down the road in a helicopter. Hilarious! Check it out at this link.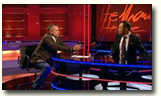 * * * * *
Last week Gerry Butler posted a photo of himself and Michael taken a couple years ago when they took a helicopter ride to the set when filming "Hunter Killer" (due in theaters on October 26, 2018).

April 5, 2018
Being a fashion plate, it comes as no surprise that Michael was seen in some ads from Mouli, a Swedish brand of men's clothing. Here are some of the ads and photo shoots from 2009 to 2016. The last photo shows Michael at a Mouli event with son Arthur and friends, probably around 2009.
April 3, 2018

Last week I finally received my DVD of "Du forsvinder" (You Disappear) with English subtitles. I would have preferred writing some positive remarks here about the screen adaptation of the bestselling Christian Jungersen novel but alas, it was a challenge to view this film as any sort of entertainment or even as educational. Mostly there was a heap of psychobabble going on and the courtroom testimony scenes were better suited for discussion fodder for medical and psychiatric students. Basically, the film's thrust is a philosophical exploration of identity, individuality, moral responsibility and whether there is such a thing as free will.
It is interesting to note that Peter Schønau Fog actually gave this director's statement - "It is probably fair to say that You Disappear is a demanding movie. It demands of its audience that they let go of conventional ideas of what a movie should be and instead view it with no preconceived notions – welcoming You Disappear as a life experience." Sorry, but it doesn't work.
Frederik Halling (Nikolaj Lie Kaas) is a private school principal who discovers he has a brain tumor and is further charged with embezzling 12 million kronor from his school. His lawyer Bernard Bergman (played by Michael) argues that his client's behavior was caused by this orbitofrontal tumor. The film switches between the courtroom and family scenes in which we learn how Frederik's behavior has affected his wife Mia (Trine Dyrholm) and his son Niklas. Due to the non-linear narration, the audience becomes tangled in a maze of confusion in understanding the course of events and, therefore, isn't given an accurate portrait of their marriage and family life. To make matters even more complicated, Mia and Bernard, whose wife has also suffered a brain injury in a car accident, begin their own torrid affair even though each claim to have a stronghold on fidelity. For Nyqvist fans, you will love the sexual energy in these adulterous scenes so perhaps it might be worth buying the DVD!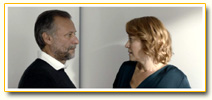 Much attention and praise has been given to the lead actress Trine Dyrholm but I was mesmerized by the excellent performance by Meike Bahnsen, who plays Laerke, Bernard's wife. Ms. Bahnsen expertly captures both the childlike innocence and wild behavior of a brain-injured person while Michael reveals the tenderness and frustration of caring for his beloved.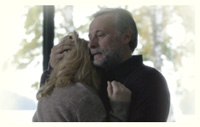 April 1, 2018 - Easter Blessings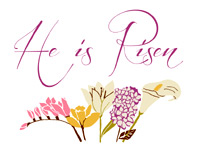 March 27, 2018
In May 2013 Michael had just finished shooting "Min så kallade pappa" (My So-Called Father) and was asked to meet buyers during the Cannes Film Festival. During one of his interviews, he shared his interest in doing a Coen brothers film, which showed his penchant for quirky humor. I wonder if he had a favorite. Mine would definitely be "Raising Arizona" (1987). When asked about his success since doing the Millennium trilogy, he replied, "Yes, I'm recognized now, wherever I go. People come to me to talk offers, ask for autographs or simply stare."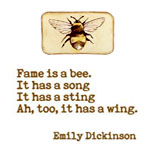 And what are foreign journalists curious about? He answered, "They want to know what I'm working on or something about Sweden or 'Millennium' and if I know Ingmar Bergman. Then I usually say he is dead and then they say, 'huh'." Since he worked with both Tom Cruise and Katie Holmes, a reporter wanted to know whom he likes more. A sticky question. He laughed and replied, "I like them both. Katie is wonderful. I recently lived in New York while filming the 'Zero Hour' TV series, and Katie and I would hang out and talk about life." Lastly, he describes the whole Cannes scene as "breathtaking" but personally prefers to stay away from the red carpet.
* * * * *
The photos below were taken at the premiere of "Safe House" on February 13, 2013 in Stockholm.

March 24, 2018
HUNTER KILLER, one of Michael's last films, will receive a wide release this fall! The action thriller, starring Gerard Butler, Gary Oldman, Common and Linda Cardellini, will hit American theaters on October 26th. Directed by Donovan Marsh, the screenplay was adapted by Arne Schmidt and Jamie Moss from the 2012 Don Keith and George Wallace novel, "Firing Point". Butler plays an untested American submarine captain named Joe Glass who teams with Navy SEALS to rescue the Russian president after he is kidnapped. Michael plays Captain Sergi Andropoyov, commander of a Russian submarine.
The film has had a quirky journey to the big screen. It was originally developed at Relativity Media in 2015 before the company filed for bankruptcy protection. It then became the object of a fierce dispute. Millennium subsequently took over the project and the film was shot in London during the summer of 2016. Millennium then sold off the North American rights to Lionsgate.
This is a photo Michael took on location of his uniform in his trailer.

March 22, 2018
I found more photos from the 2014 film, "DAYS AND NIGHTS". It's amazing that such a prestigious cast signed up for this Chekhovian script by actor/writer/director Christian Camargo. In my opinion, it's the worst film Michael has ever made - so pretentious but mostly boring. One movie critic cited it as the "single most insufferable film of 2014" and wrote, "This is the worst kind of art, deriving all of its meaning from the cultural cache of other, older, works. There is nothing wrong with intellectualism in cinema, but here, pages and pages of Chekhov can't paper over a fundamentally empty core." With such a plethora of negative reviews, I was surprised by what David Friend of Vanity Fair wrote. You had to wonder if he saw another version. He wrote, "Camargo's film, with a haunting score by Claire van Kampen, and one of the most delightfully cacophonous dinner-table scenes in memory, is that rare discovery that is usually beyond the means of the medium: a tragedy for a contemporary audience, brimming with sparkling dialogue, pathos, and, mercifully, humor."
Movie critic Nicholas Bell of Ioncinema had nothing good to say about the cast noting that some cast members gave "rather bizarre, over-the-top turns like Michael Nyqvist, and particularly William Hurt as the dying brother, at one point slapping on a wig in a scripted moment of delirious silliness." There was a time back in the old days when I wouldn't miss a William Hurt performance but here he's unbearable to watch.
For Michael, perhaps filming at the abandoned theater camp in Kent, Connecticut had some perks. Co-star Katie Holmes, just weeks from giving Cruise the axe, said, "It was a lot like camp. It was this tiny little town with one chocolate store and a little tiny bookshop." The director told the press about the sense of camaraderie the cast enjoyed while living and working together during filming. He said, "We went swimming, we went canoeing, we had cookouts. It wasn't the sort of studio environment where everyone goes home. We were there the whole time." I think this must be the closest I have ever been to Mr. Nyqvist, who was about 53 miles from my home.
When interviewing director Camargo, Nick Leyland from The Movie Network told him that one thing he was hoping for was that Camargo would have given Jean Reno a thick Boston accent or something because his French accent is so... The director agrees - "I know, the accent, and then Michael Nyqvist was from Sweden. I had to rewrite a few things to sort of get their mouth around certain things. It didn't start off this way, but I'm so happy that we have this international kind of feel to it, because it sort of breaks it out about being too preciously American, if that makes any sense."
An especially handsome photo -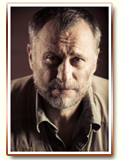 I do think the photo below was an interesting idea - having the director seated around the table reading the story just as in the 1898 photo of Anton Chekhov.
Here's an animated gif featuring a scene with Allison Janney. Happy to see Ms. Janney win an Oscar earlier this month. Wonderful actress. Loved her in "American Beauty" (1999).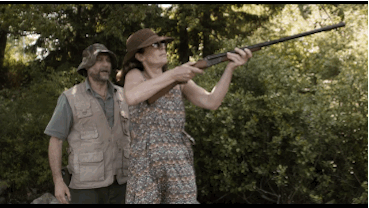 * * * * *
The "Press" section has two more interviews translated from German. They were both done in 2015 during Michael's publicity tour for "100 Code". The first one took place in Munich for Madame magazine and the interviewer makes mention that Michael has an excellent sense of humor and an open nature. Those are very attractive qualities. I often sense that he's both sweet and even naive at times like when he confesses that when he gets drunk, he becomes melancholic and almost cries. That's my kind of man! The second one was for Sky when Michael was in Vienna. Again, he talks about the differences between Americans and Europeans and brings up the fact that Americans don't always use their fork and knife. And that is so true. When I lived abroad many years ago, I had to learn to eat pizza and sandwiches, such as the Dutch uitsmijter, with a fork and knife. My husband continues the custom.
March 17, 2018
Two interviews have been added to the MNA. The first one was done in 2013 after Michael's second book was published with much of the conversation focusing on "Dansa för oss". The second interview took place in March 2015 during the shooting of "100 Code" in Stockholm. Being that today is St. Patrick's Day in America, it seems appropriate to share this snippet about Michael's language coach who happens to be Irish. This story appears in both interviews: For his role in "Mission Impossible", Michael relates, "I told him that I would use classical Oxford English. It was easy enough I thought. 'It's very hard,' he said. But I thought I could easily do that. So he asked me to read a page from 'King Lear'. I read. I asked if he liked it. Then he said, 'Michael, it's better to have a good shit than a bad f**k.'"
* * * * *
During his lifetime, Michael spoke of his Christian faith on several occasions. In a 2009 interview, he described his vision of God as "the feeling of wonder, love, empathy and the beautiful". He confesses, "I began with a baby faith but the image of God has naturally matured. I have been in analysis, played theater, had children, traveled and become familiar with different religions." He told the press that he has shared his faith with his children, taken them to church and talked about Jesus and how he lived. Michael admitted in the end that when it comes to faith, he would rather be surprised by God. And I'm sure he was!

March 13, 2018

Michael was interviewed in the October 2005 issue of Runner's World magazine. This is an overview of what he discussed. He began exercising as a teenager and has since included judo, aikido, volleyball, and soccer. He does yoga as well but admits it's not a sport. Running has always been important to him. He tries to run about four times a week, usually eight miles. He prefers Hellasgården (a leisure area outside of Stockholm) but mostly runs around Södermalm and Årstaviken.
He says, "Yes, I subscribe to Runner's World. When I read it, I think there are friends out there. It's fun to read about all the different training programs. It's inspiring. Running is central to me. There's something original about running, pure stone age joy, I think. Every time I'm out, I get that feeling, how happy and healthy I am."
He had planned to run a marathon with a couple of his friends - actors Figge Norling and Hasse Lindqvist. However, during one of his last performances in the play "Terrorism", he injured his leg. He explained, "I played an idiotic and incredibly near-sighted fireman sitting on the floor with crossed legs in a yoga position and then 19 kilos of Torkel Pettersson fell on one knee. When I left the scene, it felt like the lower leg was loose. At first I thought it was meniscus and went for an X-ray, but it was the ligament. At about the same time, Figge discovered that there would be no marathon walk so it didn't matter."
Michael always brings jogging shoes with him when he travels. He explained, "Running is good for my psyche. When you get up to my age, it doesn't matter what you do because you look the same anyway. So now it's more about keeping your body together, making sure that everything is working."
The photo below shows Michael running in November 2012.

March 11, 2018
Next month marks the first anniversary of this web site. It is my goal to complete the Archives covering all of Michael's film, television and theater work. It can sometimes be depressing when you realize there will never be any "new" work. I had a friend who created the Alan Bates Archives and after Mr. Bates passed away in 2003, she continued to keep it online for several years. I now understand that kind of commitment and the sadness that goes along with it.
I continue to add new television pages although some have limited information. The following have been added: På sista versen (1999) and Bekännelsen (2001).
* * * * *
In a recent Collider interview with Bobby Moresco, creator/director of 100 Code, he was asked, "How was it to tell a story that spans between New York and Sweden, especially with actors like Dominic Monaghan and Michael Nyqvist?" He responded, "They're fantastic actors. Michael Nyqvist, God rest him, was as talented an actor as I've ever worked with. What a great guy." Remember it premieres on WGN America on Tuesday, May 29 at 10/9c.
* * * * *
I came across a new photo of Michael as Prime Minister Verwoerd in the 2017 Madiba TV series. He looks so distinguished.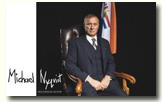 March 9, 2018
I'm sure many of you have viewed the YouTube video of Michael on the Alex Schulman Show back in 2013. It's in Swedish. Toward the end of the show, Michael speaks a little English when he's asked to relate a funny story about Michelle Pfeiffer at the 2009 Cannes festival. Hilarious!

Alex Schulman is a journalist and radio/television personality and that same year he put on a show called "Alska Mig!" at the Maximteatern. The following photos show Michael at the premiere on March 7th along with Alex's brother Calle, who's much shorter than Alex but quite a look-alike.
Also, at the Maximteatern on October 19, 2016 was the premiere of "Macbeth" starring Mikael Persbrandt. The last photo is a close-up of the second one. Michael is now living with the knowledge of his lung cancer and you can detect deep sadness in his face. The woman in the first photo with Michael and Catharina is Agneta Villman, a Swedish theater producer and director.
The photos below show events sponsored by Ms. Villman. The first one was taken at the Medea Theater Prize event in 2015 and the second was at a celebration party for Villman Productions in 2010. The last photo is from the 2005 play, "Geten eller vem är Sylvia" at the Vasteatern showing Michael with actor Albin Flinkas. Ms. Villman posted this photo on Instagram last summer after Michael died.

March 5, 2018

Today Scandinavian media expressed their disappointment that Hollywood did not include Michael in their Memoriam at the Oscars last night. And rightly so. When the Academy includes names of hair stylists and publicists, how many people among the millions watching have ever heard of these people? Besides Michael, there were several other famous celebrities omitted such as Dorothy Malone, Bill Paxton, Powers Boothe, Glen Campbell and Jim Nabors. And Michael went on to become world famous with the Millennium Trilogy. Aftonblad's film expert Jan-Olov Andersson finds it strange that his countryman was not remembered. He writes, "There were really many I've never heard of before and Michael Nyqvist has made films with both Tom Cruise and Keanu Reeves. He was also featured in a series of smaller American films and was a well-known name in the industry in the USA."
New Zealand journalist Tim Wilson also questions the omission of Nyqvist: "It hurts me that so wonderful an artist like him is not honored," writes Wilson.
Journalist Brendan Morrow writes, "Michael Nyqvist was a great Swedish actor who had been on the rise in recent years, but tragically died in June 2017 at just 56 years old. Though he appeared in many Swedish films, Nyqvist starred in some extremely popular American movies over the past decade as well, including John Wick and Mission: Impossible – Ghost Protocol. But sadly, no mention of Nyqvist was made during the show."
March 4, 2018

I've added a new article/interview to the press section that was published on October 19, 2014. Michael discussed his weaknesses and lack of confidence and while reading it, I could understand why he succeeded so well in interpreting the insecure CEO in "Om Stig Petres Hemlighet". In the interview, he explains how he takes on a role and pours it through his own personal filters. There was definitely a strong connection between Michael and Henrik, the factory owner.
There are some new additions to that film page - production photos such as this one. Check them out here.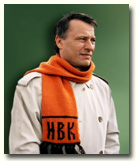 News Archive:
2017: April, May, June, July, August, September, October, November, December